Editor's note: While we deal with our last of off-season drama, we decided to finally edit this piece that was submitted to us months ago, so we can reflect one last time on our 2018 roster before we look forward.
It's kind of a hard time to be a fan of New York sports right now. While many (but not all, for some reason) of us have been satiated by the record-setting pace of the 2018 New York Red Bulls, many, if not all, of the various other New York sports franchises find themselves in various degrees of failure. Some, like the Yankees, have been dealt embarrassing playoff defeats by their closest rivals, while others, such as the Rangers and the Giants, find themselves deep in rebuild mode- a far cry from the championship contenders that they were at the turn of the decade. To summarize, you know that you're in kind of dire straits as a sports city when the Jets are arguably the second most exciting team in the area going into the 2018/19 sports calendar because I mean, come on, it's the Jets. When have they ever been more exciting than your other teams?
So when times are bad and the sports hurt, what better to do than to insulate yourself from the pain than reminiscing about better times? To do that, we're going to go back to a period of time where things were much more hopeful, and the image of a triumphant team parading through the Canyon of Heroes was more of an expectation than a distant dream. I am talking about none other than the early 2010s, where the Rangers were Stanley Cup finalists in 2012, and the Giants defeated the great Satan Tom Brady a second time to bring a Super Bowl to New York the same year. But they're not going to be the focus of this article. Instead, we'll be shifting our attention to what was one of the most unlikely success stories in sports history. This was a story that captured the imagination of even the most jaded New York sports fan, and created a level of buzz around a much-maligned New York sports franchise that, much like Red Bull in 2018, hadn't been seen surrounding the team in years. Yes, that's right, we're gonna be talking about Linsanity.
On the surface, there are a number of immediate parallels that we can make between the 11/12 "Linsanity" Knicks and the 2018 New York Red Bulls. They were both for a time the most watchable iterations of their teams, and both, in a way, kind of came out of nowhere to seize hearts and minds. As you may recall, the Knicks were galvanized halfway through the season by the acquisition of undrafted Harvard point guard Jeremy Lin, who's scintillating play led the Knicks to a 7-game winning streak during what had up to then been a decisively mediocre season at the Garden. The 2018 Red Bulls, on the other hand were the product of a quick reload from the similarly mediocre 2017 iteration of the team, with the team being freed from the shackles of over-relying on Sacha Kljestan to become a more fully realized energy drink soccer team. Both teams were also very much bright spots in the history of franchises traditionally associated with big money mistakes. It is such that this serves as a natural jumping off point for the main part of this article: comparing every player on the 2011/12 Knicks to a member of the 2018 New York Red Bulls.
#17 Jeremy Lin (PG) - #10 Alejandro "Kaku" Romero Gamarra (CAM)
And what better way to start than comparing the main men themselves? This one may seem a bit controversial off the bat, but believe me when I say that they're quite comparable to one another on and off the field. Firstly, we have to look at the way that both of them energized their respective teams upon being given a larger role. Lin was slotted into Mike D'Antoni's rotation in February 2012 out of desperation with the other point guards on the Knicks roster being either injured or playing poorly. So unheralded was Lin upon his insertion into the rotation that he had to sleep on friend and teammate Landry Fields' sofa for his first few games as a result of him not having the time to find more permanent accommodation in New York. The rest, as they say, is history. After dropping 25 points off the bench on Deron Williams' Nets, Lin was slotted into the Knicks starting lineup for their next game against the Utah Jazz, and proceeded to lead the Knicks to a 7 game winning streak. It was during this winning streak that Lin had many of his best all-around performances as a starter in the NBA, including the game against the Lakers where he famously dropped 38 points on Kobe Bryant. On a roster with Amar'e Stoudamire and Carmelo Anthony that had gone 8-15 in the first 23 games of their season, the Knicks went 16-10 in Lin's 26 games as an everyday player and eventually qualified for the playoffs even after Lin's season ending meniscus injury.
Indeed, just as how Lin elevated the Knicks offense from its poor start in 2011/12, Kaku elevated RBNY's offense to new levels following his acquisition from Huracan in the 2017 winter transfer window. Like Jeremy Lin, Kaku was a bit of an unknown quantity to the RBNY fandom upon his move to New York, with portions of the fanbase questioning why the team would be willing to spend as much money as they did on bringing in a guy many of them had never heard of. It has to be said, however, that there is a point of differentiation between Kaku and Lin that arises from the weight of expectation that was placed on Kaku as a result of his price tag and his protracted transfer saga, which means he wasn't quite as unheralded in the same fashion as Jeremy Lin was. Ultimately though, the stories on a macro level are pretty similar in my opinion: a relative unknown comes to New York and brings a team renowned for underachieving to exciting new heights. As we all know, the devastation that the Paraguayan playmaker has inflicted upon the league with his nutmegs and passing skill has endeared him to the fanbase, just as how Lin's lethality in the pick and roll with Amar'e Stoudamire turned the Knicks season around in 2011/12 and made him a household name. The similarities extend off the field as well. Both players generally keep low-key, humble profiles that give off an air of wholesomeness. Or, in Lin's case, he did until the bizarre period where he tried to grow dreadlocks while he was with the Nets. But the point stands, these are two generally wholesome, pure boys who came to New York as relative unknowns, and saw their stars rise while they plied their trade here. Let's just hope that Kaku's career trajectory doesn't follow Lin's post-Knicks career.
#7 Carmelo Anthony (SF/PF) - #99 Bradley Wright-Phillips (ST)
This may be another controversial comparison considering that BWP doesn't quite carry the same air of aloofness or have the ego problems that have generally followed Melo around for the duration of his career, but bear with me on this one. I guess we'll begin by addressing a number of other clear differences between the two, particularly in terms of the respective profiles of both players had upon being acquired by their respective New York teams. As we recall, the Knicks brought Melo back home from Denver in 10/11 upon the completion of what seemed like a hilariously lopsided trade even at the time. They then ultimately tried to form a big 3 around him and fellow big signing Amar'e Stoudamire going into the 11/12 season by completing a sign and trade deal with the NBA champion Dallas Mavericks for Tyson Chandler. Melo was the undisputed star of the team, and was heavily expected to be the team's franchise player from the time he came home to New York, owing mostly to his offensive prowess in isolation. It may be easy to forget now that his career has been tinged with this element of chronic underachievement, but there was a time where Carmelo Anthony was one of the most potent forces in the league on offense, with his wide array of moves and ability to create shots for himself off the dribble making him a lock for at least 25 points per game. Indeed, you may laugh at Melo for saying that he'd rather have 3 Olympic gold medals than an NBA championship, but remember, there was a reason why he found himself playing basketball for Team USA at the Olympics anyway. But just in case, I'll spit it out for you. In terms of pure talent, the man was one of the best players in the league. Needless to say, I feel like Melo gets a bit of an unfair shake sometimes when his career is evaluated because people will always feel like he could have been so much more. See where I'm going with this? Remember this later.
BWP meanwhile, was a career journeyman upon his arrival in New York as a midseason trialist in 2013. Truly, if the point of the article was to compare the 2014 RBNY team to the 2011/12 Knicks, then BWP would have very much been the Jeremy Lin figure, having broken out with a landmark 2014 season that saw him tying what was then an MLS single season record of 27 goals in regular season play. But as we stated earlier, the point of comparison to the 11/12 Knicks is the 2018 RBNY team, which is why this kind of checks out. As we know too well from having watched him play over the years, Brad's career with the Metro has gone above and beyond even the most wildest expectations anyone had for him upon his arrival in New York. In the 6 years he's spent with Red Bull, BWP has bagged a tally of career MLS goals that has almost doubled the previous club record, while becoming the first player in MLS history to score 15+ goals in 5 consecutive seasons.
Indeed, going into the 2018 season, BWP was the undisputed star of the team, serving as the crux of RBNY's offense, just as how Melo served as the crux of the Knicks offense. Furthermore, remember how I said that Melo gets kind of overlooked as an offensive force because of perceptions of chronic underachievement that stem from his career with the Knicks? Well, in some ways, BWP suffers from being consistently overlooked when premier offensive forces in MLS are talked about because of a similar perception of underachievement that has followed him throughout his career. While Melo's track record does have a level of self-infliction to a degree because of his perceived ego problems and the modern NBA game bypassing the effectiveness of ISO dominant players like him, this aspect of being overlooked arose differently in BWP's case. In my eyes for BWP, these perceptions are linked to the idea that a man who was hitherto a career journeyman in the English Championship and League One becoming one of the best strikers in MLS is somehow more of an indictment of the quality of the league than a testament to the team's ability to develop quality players regardless of age. Indeed, BWP developed a more all-rounded game than Melo did over the course of his career in New York, but that still somehow wasn't enough to overcome the narrative. But those people are stupid, which is why we don't read their articles or listen to their podcasts, right? Anyway, to drive the point home, it would be good to mention that it was also Melo who apparently suggested to Mike D'Antoni that Jeremy Lin should receive more playing time, which reminded me of the quiet leadership that BWP provides in the locker room. All things considered, BWP and Carmelo both embody this concept of someone being a premier offensive force and still somehow being overlooked when it comes to talking about great offensive players. They were also both the undisputed offensive stars of their team at the point of comparison, which all the more makes this comparison pertinent. You can send your dissenting opinions to my email, seeingredny@gmail.com. Thank you.
#1 Amar'e Stoudamire (PF/C) - #77 Daniel Royer (LW/ST)
This was one of the easier comparisons that I had to make, but not just because they were both seen as the second/third scoring options on their respective teams at the time of comparison. In many ways, they're also both players that need to have a certain system centered around them in order to get the best out of them. Indeed, both players have kind of gained a reputation of seeing their levels of play slip as a result of not having the offense being tailored around their most exemplary skills. In the case of Amar'e, the Melo/Amar'e era Knicks generally suffered from not having a point guard that could run the devastating pick and roll sets that Amar'e ran with Steve Nash in Phoenix. Except for that one time they did. What was his name again? Oh, that's right, Jeremy Lin. But enough about that. Amar'e also suffered from having to mostly play in a Knicks offense that was very much centered on Carmelo Anthony isolation sets in offense. This generally resulted in Amar'e mostly being reduced to performing cleanup duty for Melo; a much more static style of play that wasn't conducive to his greatest assets on offense, which was namely the mobility and movement that had made him such a force in Phoenix.
Rings a bell, right? This brings us to Daniel Royer. Royer as a player can be a bit of an enigma. He's not particularly blessed with pace or acceleration, and his passing and dribbling skills aren't really that great either. His most outstanding attribute is his ability to put himself in the right place at the right time to score a goal. This itself can be owed to his adeptness in reading and reacting to what his other teammates are doing on the ball, which itself is responsible for his excellent off-ball movement and ability to time his runs well. Truly, the central paradox of Daniel Royer as a player is that he is a player that becomes more dangerous the less he touches the ball in the buildup. This was used to devastating effect in 2017 when he would play off the movement of Sacha Kljestan and Bradley Wright-Phillips in order to score goals by the bucketload in the summer, before the warning track at Yankee Stadium infamously put a sudden end to his hot streak right when it was burning the brightest. So in effect, Royer's 2017 was much like Amar'e on the Suns, where Amar'e would use his mobility to play off the shoulder of Steve Nash in the pick and roll, which resulted in a number of great looks at the rim for him. So if Amar'e on the Suns was Royer in 2017, Amar'e on the Knicks is consequently Royer's 2018. As we recall, Royer initially struggled with the increased playmaking burden in the buildup that Jesse Marsch made him shoulder throughout the first half of the season, as it forced him to come deeper away from the opposition goal in order to assist in holding the ball up more. This role exposed Royer's rather poor on-ball ability, in addition to negating his ability to use his excellent off-ball movement to put himself in dangerous situations to score. Indeed, this can be likened to Amar'e generally struggling to assert himself in his more static role in the Knicks offense, being forced to mostly bang in the paint to fight for rebounds while Melo did his work in isolation, which negated his excellence in running the floor as a big man. In effect, the similarities between these two run deep, which is why they're undoubtedly comparable to each other.
#6 Tyson Chandler (C) - #31 Luis Robles (GK)
Every team needs a defensive marshal, and these two exemplify it to a tee. Both of these players emerged over time with reputations for being the respective defensive anchors for their teams, and became on-field/on-court leaders as a result for their aptitude for organizing their respective defenses. But the similarities between these two go beyond their respective roles as defensive anchors. They are also both players who kind of emerged unexpectedly as being key defensive players on championship contending teams. Prior to his breakout 2010/11 season in Dallas, Chandler had been a relatively unheralded 10 year journeyman in the NBA, having completed unremarkable stints in Chicago, New Orleans and Charlotte prior to landing with the Mavericks via trade. Under Rick Carlisle's guidance, Chandler emerged as a defensive force for the Mavs en route to their famous upsetting of the Miami Heat Big 3 in the 2011 Finals, gaining notability for his formidable rebounding skills and ability to lock down the paint. He was also noted for his ability to shoulder a large minute workload, having only missed 8 games all season for Dallas, and practically being the only center utilized by Carlisle for large portions of the Finals series against Miami. This resulted in Chandler's sign and trade deal to the Knicks, where his defensive prowess was anticipated to have helped the Knicks complete a Big 3 of their own with Melo and Amar'e. With the Knicks, Chandler's reputation as an astute defender only grew, which culminated in him receiving Defensive Player of the Year honors in 2012, making him the only Knick in history to have received the award. Luis Robles' own career has echoes of a similar story, only in his case, his breakout happened while he was in New York, as opposed to just before it. Like Chandler, Luis was a relatively unheralded goalkeeper who struggled to make an impact in Germany with Kaiserslautern and Karlsruher. The story goes that he was on the verge of retiring and taking up a career in real estate prior to being contacted by Red Bull for a trial in 2012, signing with the club initially as the backup to rookie sensation Ryan Meara. We know the rest of the story from here. Meara missed the close of the 2012 season as a result of a hip injury, which resulted in Luis being named the starter. Luis then proceeded to not miss a regular season game for the next 6 years, securing his legacy as RBNY's ironman and as of 2018, captain. Just as how Chandler earned Defensive Player of the Year honors in 2012, Luis was named MLS Goalkeeper of the Year in 2015, and has firmly established himself as one of the best goalkeepers in MLS as a result of his fearlessness in playing off his line and his exemplary shot stopping ability. When you look at the paths that these two took, you can see why they're natural comparisons to one another.
#2 Landry Fields (SG/SF) - #27 Sean Davis (CM)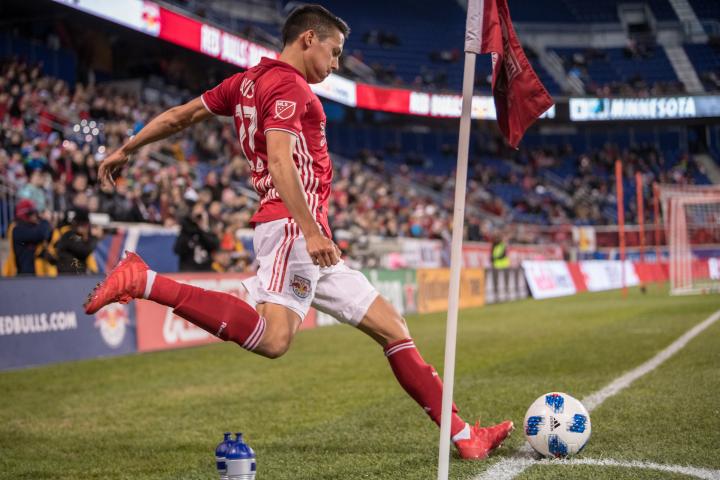 This is where we start to separate the men from the boys when it comes to remembering the 2011/12 Knicks team. There was a time where you could make a case that Landry Fields was on track to having a career as a solid shooting guard in the NBA. As it turns out, however, various elbow injuries that affected his shooting form and an extremely unfortunate career ending hip injury put an end to Fields' playing career before it even really took off, but in 11/12, Fields was kind of a bright spot in what was a rather poor pool of Knicks guards. During his rookie season the year before, Fields averaged 31 minutes per game, scoring just shy of 10 points, while also grabbing 6.5 rebounds and averaging 1.3 steals per game. While it was clear that he was probably never going to be a star, Fields definitely had potential as a solid rotation option, combining decent scoring ability with some nice work on the defensive side of the ball. Fields effectively had the potential to be the type of solid role player that could contribute on a winning team, not being the best at one particular thing, but doing everything he was supposed to do competently. Naturally, this makes him a clear fit for Sean Davis, who has very much emerged as being the glue guy on the 2018 RBNY team. Like Landry Fields, Sean Davis is the type of player who isn't going to be the go to guy on a team when you need a single game-changing play, but makes a difference anyway in his ability to tie the rest of the team together through solid, consistent play. Davis has earned admirers for his calm, cool disposition in the center of the field, acting as the metaphorical eye in the hurricane known as the RBNY press, where he has shown an adeptness for settling possession of the ball once its won back in the press, before moving it on up the field as quickly as possible. Off the field as well, the comparisons between the two continue, with both players being known for being great teammates. Davis occupies a position on the RBNY player's leadership council- a role which has resulted in him being earmarked as a future captain by many keen watchers of the team. He was also notably one of the only players on the roster along with Aaron Long and Alex Muyl to have struck up a rapport with poor old Gonzalo Veron, who was mostly ostracized by the other "senior" players on the team such as Sacha Kljestan and Dax McCarty during his time in New York. As for Landry Fields, as mentioned earlier, he was notably the player who allowed Jeremy Lin to stay with him prior to finding more permanent accommodation in New York. Indeed, a picture that Fields took of the sofa that Lin slept on prior to the emergence of Linsanity won Fields a prize for best image at the NBA's end of season social media awards. All things considered, Fields and Davis exemplify what it means to be a glue guy on and off the field of play.
#8 J.R. Smith (SG) - #7 Derrick Etienne Jr. (LW/RW/ST)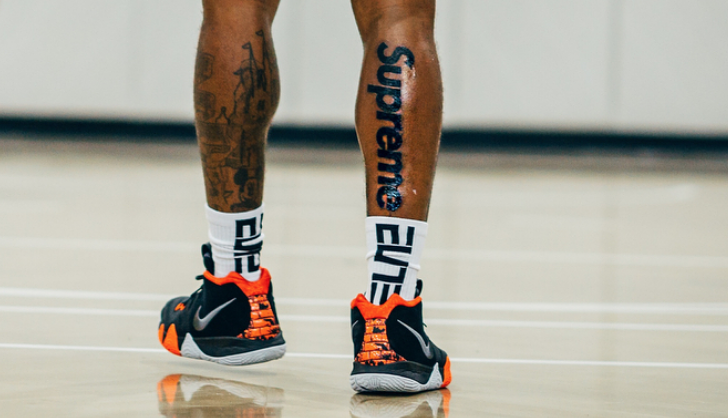 Initially, I wasn't sure if Derrick Etienne or Alex Muyl would be the J.R. Smith figure on the 2018 RBNY squad. Both players can be polarizing figures for sure, mostly owing their occasionally inconsistent levels of production from their attacking roles. But when I thought about it some more, I think it made more sense for DEJ to be J.R. Smith. This is mostly due to the fact that like J.R. Smith, Etienne has a flair for both spectacular brilliance and spectacular failure that results from an almost psychopathic impulse to dunk on opponents at all costs. Like J.R. Smith, Etienne can be a frustrating player because the offensive talent is clearly on display, but the final product can at times be lacking as a result of some poor decision making. Watching Derrick trying fruitlessly to dribble his way through two defenders on the wing before being dispossessed is effectively soccer's answer to J.R. Smith trying to dunk over three dudes in traffic instead of passing the ball back out to the perimeter for the open shooter, which makes these two a perfect fit in my book. Also, they both have a track record of problematic opinions about women, and should really stop being horny on main. Please do better, guys.
#21 Iman Shumpert (SG/SF) - #19 Alex Muyl (RW)
The Knicks' sole pick in the draft for the 11/12 season was shooting guard Iman Shumpert, who the Knicks took 17th overall in the 2011 NBA Draft. Shump has carved out a pretty decent career for himself as a good defensive guard, emerging as arguably the best on-ball defender the Knicks had in their guard rotation during his rookie season. The biggest knock against Shumpert, however, has been his rather poor shooting ability, especially for a shooting guard in an increasingly shooting-friendly NBA. Indeed, Shumpert's lack of a decent jumper pretty much limited his ceiling as a defensive role player in the modern NBA, which is nevertheless a pretty decent way to make a living. He does have a ring to show for it, after all, having won a championship with the 2016 Cleveland Cavaliers. In effect, Shumpert is in some sense the basketball embodiment of the discourse that has been centered around one of the most divisive players in recent Metro history: the lightningrod of controversy known as Alex Muyl. Like Shumpert, Alex has received criticism for his lack of offensive end product in spite of his excellent defensive work in the press. His plaudits have praised him for being a significant reason for the press being as relentless as it is as a result of his tenacity, while also praising him for his intelligent movement. Meanwhile his detractors have pointed to the various times he has squandered great chances by taking poor quality shots or being too indecisive on the ball, particularly zoning in on his tendency to take one too many touches upon receiving the ball. Whatever it is, it is clear that Alex can still be a high quality role player at the very least on a winning squad, just as how Shumpert eventually carved out a niche for himself as a defensive specialist on the 2016 Cavaliers. And if Alex's recent play is anything to go by, you may very well be seeing him casting off the "offensive liability" labels sooner rather than later.
#9 Jared Jeffries (PF/C) - #5 Connor Lade (LB/RB)
Every team's depth chart has at some point been filled by veteran warm bodies who can come into the game to kill time and give the team's star players some much needed rest. These are guys who aren't particularly great at anything, and are just really there to be guys who spot minutes for their more talented teammates. They generally don't do anything too flashy, but they also don't really do anything notably terrible. They're just kind of there to be… there, and occasionally add qualities such as "toughness" and "hustle" that angry, middle-aged white sportswriters like to write academic dissertations about. Jared Jeffries and Connor Lade were the exact kind of "tough, grizzled" veteran players who could go out and "play with hustle and heart" for a few minutes while their more talented teammates take a breather. They were the warm bodies on their respective depth charts that just came in to play completely unremarkable minutes, and happily returned to the bench once the options higher on the depth chart were raring to go again. That's all I can really say about them, really.
#85 Baron Davis (PG) - #11 Carlos Rivas (ST)
I was kind of stunned to see Baron Davis' name on the depth chart for the 11/12 Knicks, because the last time he had even relevant to my universe was when he was throwing lobs to Clippers teammate Blake Griffin out of the sunroof of a KIA in the 2010 Dunk Contest. The comparisons do run deep with these two, though, and it's not just because they're both thiccbois. As it turns out, Davis was in some ways the man who enabled the whole Linsanity story to begin with, as it was his various injuries following his signing with the Knicks out of free agency that contributed to Mike D'Antoni resorting to letting Jeremy Lin play out of desperation. In a sense, Baron Davis represents the offensive help that was brought in prior to the season that didn't really end up having the desired impact and just became somewhat of a footnote on the season. Kind of like our favorite thicc son Carlos Rivas really. Outside of becoming a meme for his beautiful smile and his aptitude for sending balls into orbit, Rivas proved to be an underwhelming get in the wet fart known as the Sacha Kljestan trade; a trade that effectively saw both sides dumping unwanted assets on one another. The comparisons don't really end there, however. Like Davis, who was a two-time All-Star in 2002 and 2004 with the Golden State Warriors, it should be noted that Rivas had some pedigree back in his native Colombia. He had a decent goalscoring record with Deportivo Cali, having scored 15 goals in 42 appearances, with his speed making him particularly potent on the break or in one-on-one situations. And really, when you're signed to a designated player contract by Orlando, it's more or less a kiss of death for your career, because that club is poison. Alas poor Carlos, a victim of circumstance.
#20 Mike Bibby (PG) - #78 Aurélien Collin (CB)
Speaking of washed up star point guards that found themselves playing for the Knicks in 2011/12, they don't come more washed up than former Kings standout Mike Bibby did that season. A far cry from his glory days as Chris Webber's sidekick on the formidable Sacramento Kings teams of the early 2000s, the 2011/12 season ultimately proved to be Mike Bibby's last. Indeed, on a roster with a notably poor crop of players at point guard, it was Bibby who ended up backing up Jeremy Lin at the height of Linsanity, which kind of tells you everything you need to know about the quality of his play during the non-Linsanity portions of the season. In spite all this, Bibby had somehow earned MORE playing time than Lin did prior to Lin's midseason breakout, which meant that not only was he washed up, he was washed up AND blocking better, younger players from getting playing time. Just like how our very own washed up 2013 MLS Cup MVP and resident Venezuelan counterrevolutionary Aurélien Collin spent most of 2018 blocking the much younger and more talented Fidel Escobar from seeing the field. I reckon it's because of his overwhelming desire to prevent admirers of people named Fidel from being happy. To be fair to Collin, however, it's not really his fault that he got as much playing time as he did. It's kind of more on the backroom staff. You would be insane to tell your manager that you should be sitting for someone else, after all, but the point still stands. These guys should have been much lower on the depth chart than they ended up being, and they kind of got a disproportionate amount of playing time relative to their age-induced drastically lower levels of play.
#23 Toney Douglas (PG) - #88 Vincent Bezecourt (CM)
I admittedly had a bit of difficulty with this one. There's no one who is a true one for one fit for Toney Douglas on the 2018 RBNY roster in my opinion, because the quality of the Red Bull depth options are far superior to those that were on the 2011/12 Knicks. Toney Douglas was one of those completely unremarkable depth options that found themselves on the Knicks that year. This mostly owed itself to the terrible cap situation that the Knicks put themselves in as a result of the egregious amounts of money they had tied up in Amar'e, Melo and Tyson Chandler. All he was really good for was the occasional three pointer off the bench, and didn't really provide much else in terms of a spark any other way. There was no way that he should have been receiving rotation minutes on a better team, let alone starting as he did at some points throughout the season. I guess in this sense, Vincent Bezecourt is probably the closest analogue to Toney Douglas on the 2018 RBNY roster. This is not because he's a bad player, but rather because he probably has had the least impact of any of our depth players this season, mostly as a result of his unfortunate struggles with injury. Even in his limited minutes with the first team, it could be said that Bez didn't really stand out either, but more because he was a steady presence in midfield than a completely fungible guy. I guess what it ultimately boils down to is that these two were arguably the most easily replaceable depth options on their respective rosters, with there being a multitude of better 3&D point guards than Toney Douglas in the NBA, and there being other options throughout the RB org that can do what Bezecourt did with the first team.
#16 Steve Novak (SF/PF) - #18 Ryan Meara (GK)
This comparison was mostly rooted in the fact that they gave off the impression as being two kinda crusty white dudes who spent most of their careers as consummate backups to other players. But it's also rooted in the fact that these two also turned out to be backups that also served as specialists. Goalkeeper as we know is the most specialized position in soccer, which makes Meara a very specialized backup by default, while Steve Novak is the professionalized version of the old white dude playing pickup at the YMCA who does nothing but sink three-pointers at a remarkably efficient rate. In other words, Novak is what is known in basketball parlance as a three-point specialist, a distinction which has enabled many other unathletic white dudes to continue receiving gainful employment in professional basketball. Additionally, just as how Meara deputized Luis Robles exceedingly well in 2017 and 2018, Novak proved to be a surprisingly efficient second option at the height of Linsanity. Upon taking on a more prominent role in the offense alongside Jeremy Lin as a result of the Knicks' already thin depth taking a number of hits, Novak responded to his uptick in minutes by sinking three-pointers at a career best rate. He averaged over 15 points a game throughout the Knicks' 7 game winning streak, and ended the year shooting 47% from the 3-point line; a clip that helped him attain a career high in points per game. Like Ryan Meara's excellence spotting for Luis Robles after the latter's knee injury this year, this proved that the specialists could excel in a larger role when called upon.
#44 Jerome Jordan (PF/C) - #16 Anatole Abang (ST)
We've gone far beyond the looking glass at this point. It's highly likely that even if you made it this far, this is the point where many of even the most faithful of Knicks fans will start scratching their heads and going "who?" Welcome to the abyssal plain of the Knicks bench. Abandon all hope ye who enter here. Anyway, Jerome Jordan was a 2nd round draft pick in the 2010 NBA Draft that was traded to the Knicks for cash before the start of the lockout shortened 11/12 season. He didn't feature much for the Knicks, playing in 21 games total at an average clip of about 5 minutes per game, and was eventually traded to Houston in the offseason with Toney Douglas and Josh Harrellson for rebound specialist Marcus Camby. Jordan's career gets interesting here, as after being cut by the Rocket, he bounces between a couple of D-League teams, while also spending time abroad playing in Italy and the Philippines. He then finds his way back to New York, signing with the now Brooklyn Nets in 2015, before heading back overseas again, this time to Spain and China. It really is astounding how international the careers of non-NBA lifers can get. It also reminds me of our very own international man of mystery, Anatole Abang. "Where In the World is Anatole Abang?" remains one of the most bizarre transfer sagas in RBNY history, where Anatole spent the better part of 4 years in New York being loaned out to clubs in Denmark, Finland and Romania. And just like how Jerome Jordan eventually found his way back to New York, Anatole found a way to come back to us too, where he immediately established himself as the best player in club history to wear #16. What a legend, that Anatole. Lord only knows where he'll end up next.
#55 Josh Harrellson (PF/C) - #41 Ethan Kutler (RB)
So now we move on to the next member of the Knicks deep bench mob, rookie big Josh Harrellson, a 2nd round 2011 draft pick who ended up in New York after being dealt for cash by New Orleans. Unlike Jerome Jordan, there was a moment in time where Harrellson was actually getting a bit of a run in the rotation, playing quite a fair bit in the Knicks' opening 16 games, and even logging a double-double in his first career start spotting for Amar'e Stoudamire. He then proceeded to hurt his wrist, and more or less ended up being buried on the bench after returning to full health. Kind of like Josh Harrellson then, Ethan Kutler was a relatively unheralded RB2 callup, whose first team prospects were initially met with hesitance when it was announced that he earned a promotion. He answered his doubters initially with a couple of solid spot starts, particularly against City in the USOC, and looked like a very decent stopgap at the very least. He then proceeded to fall off a cliff after his short run with the first team, looking nothing like the smooth passing defensive-minded right-back that had played so well against NYCFC after returning to RB2 duty. Even this deep in, you have a perfect comparison, as these two fit the role of unheralded prospects who came in and did some cool things in spot starts before being banished to the shadow realm on their respective rosters. Harrellson currently plays for Japanese basketball team Sun Rockers Shibuya, so if this is an indication of what's to come, I would like to congratulate Ethan for his future first team role with FC Tokyo.
#50 Dan Gudzaric (PF/C) - #21 Tommy Redding (CB)
So here we are, the deepest of the deep. The Mariana Trench of the roster. The lowest point of the depth chart. Just like how 99% of life at the bottom of the sea is unknown to us, 99% of the players that occupy this portion of the roster are destined to being forgotten. These are the guys whose existences are only confirmed by the occasional Wikipedia deep dives, which remind us of the fact that yes, these men were once paid real American dollars to play sports. In this particular deep trawl into Knicks history, we have uncovered a creature named Dan Gudzaric, a real curiosity not only because he is apparently Dutch, but also because he has a really goofy ass last name. The only other thing that I really have to say about him and Tommy Redding is that they are dudes who existed by being consigned to the deepest, darkest parts of the bench. Good luck in your professional Overwatch career, Tommy. You're probably already used to existing in deep, dark places where no one can reach you anyway.
Mike D'Antoni (Head Coach) – Jesse Marsch (Manager)
The comparisons don't stop with the players either. Like the 2018 RBNY team, the 11/12 Knicks navigated a midseason coaching change too. Wacky, huh? What's particularly eerie is that the head coaches that started the season were both notorious for stubbornly sticking to their philosophies no matter what the game state. If you're reading this, you're probably already familiar with the tenets of the Red Bull global high press that Jesse implemented in 2015. Keen watchers of basketball, however, will also be familiar with Mike D'Antoni's famous "Five Seconds or Less" offensive scheme, which was in many ways basketball's answer to energy drink soccer. But for those of you who may not be familiar with it, I'll give a bit of a rundown. The Five Seconds or Less scheme relied a lot on short, intense bursts of high-paced passing in the halfcourt, with the aim of confusing and subsequently overwhelming opposing defenses with the speed at which D'Antoni's players would move the ball around. The short intense bursts of ball movement were done with the end goal of eventually putting the ball in the hands of an open shooter on the perimeter within 5 seconds, which ideally allows for more potential offensive possessions, and therefore potential points totals. Naturally, this system depended a lot on guards and forwards who were both good at shooting and passing, as well as bigs who were mobile enough to set the picks needed to free up space, which the Knicks certainly didn't have by the boatload in 2011/12.
Thus, to the surprise of absolutely no one but the Knicks front office, the Knicks were a remarkably poor fit for D'Antoni's system. This was mostly due to the fact that none of the guards were particularly good at handling the ball or shooting, and the Knicks generally didn't have too many players who were adept from shooting from 3-point distance. The end result was a lot of possessions with tepid, uninspiring passes around the perimeter, which usually resulted in Melo or J.R. taking a multitude of really dumb shots once the shot clock started running down. Seeing the Knicks throw up brick after brick as a panic response to the shot clock winding down under D'Antoni was very much like seeing a Jesse Marsch team lobbing an endless amount of aimless crosses into the box against a bunkering team not interested in playing into the RBNY press. Unlike Jesse, however, who left on his own accord midway through the season to become Ralf Rangnick's right hand man at RB Leipzig, D'Antoni was resigned halfway through the Knicks season, being thrown under the bus for being given an incongruous roster that couldn't execute the system he had perfected as Suns head coach. D'Antoni is now the head coach of a Houston Rockets team that has executed his philosophy to astounding success, while Jesse's RB Leipzig team is reeling from the lack of an adequate replacement for Naby Keita. Funny how these things work, eh?
Mike Woodson (Head Coach) – Chris Armas (Manager)
Upon firing Mike D'Antoni, the Knicks named D'Antoni's assistant Mike Woodson as the interim head coach. Woodson took on a markedly more pragmatic approach to the offense than his predecessor did, resorting to trying to base his offense around maximizing Carmelo Anthony's prowess in isolation than the pick and roll sets with Jeremy Lin and Amar'e Stoudamire that D'Antoni found a relative level of success with. Woodson's Knicks markedly operated at a much slower pace than D'Antoni's as a result of this, but generally grinded out good results. The Knicks qualified for the playoffs, where they bagged their first playoff win since 2001 against the Miami Heat before losing the series in 5. Needless to say, the parallels with Chris Armas are pretty clear here, where the head assistant takes over for the departing head coach, and more or less keeps the ship running by grinding out ugly wins. The point of differentiation between Woodson and Armas for me, however, is the acumen the latter showed in adjusting to changes in the game state. Armas defenders on RBNY Twitter will highlight how he generally does a better job of making in-game adjustments than his predecessor did, and does a better job of facilitating competition for starting positions amongst the squad, in spite of the Armas detractors generally bemoaning the fact that Armas' teams don't play with the same intensity over a 90-minute period that Marsch's teams did. Mike Woodson, on the other hand, was somewhat exposed as lacking ideas outside of letting Carmelo Anthony do whatever he wanted on offense. After guiding the Knicks to the 2nd seed in the weak Eastern Conference the next year, the Knicks proceeded to miss the playoffs in 13/14, which resulted in Woodson losing his job. If there's any indication of the opening stages of the Chris Armas era, I think it's safe to say that our former head assistant seems to have displayed more promise than the Knicks' former head assistant.
So there you have it, every member of the Linsanity Knicks as a member of the 2018 New York Red Bulls. You will note that there were some Red Bull standouts who were not included on this list, particularly our entire starting back line. It's because unlike the Knicks, the 2018 Red Bulls actually have competent defenders. The RBNY defenders in 2018 are so good that they can contribute in the attack, unlike the Knicks in 2011/12 who had attackers who were liabilities on both ends of the court. Ultimately, Linsanity proved to be a but a flash in the pan. Jeremy Lin tore his meniscus in late March, and missed the rest of the season recuperating. He then proceeded to be controversially let go by the Knicks, supposedly as a result of Carmelo Anthony's refusal to share the spotlight with the same man that he inadvertently cast on the path to stardom. This was the beginning of the downward spiral for both Jeremy Lin and the Knicks. The rest of Melo's tenure in New York saw the team bottoming out in 2014/15, where they achieved the worst record in franchise history, earning them the 4th overall pick that allowed them to make the much-maligned selection of a Euro nobody named Kristaps Porzingis. Wonder how that worked out.
As for Jeremy Lin, his stint with the Knicks proved that he could at least hang in the NBA, while also showing that he had the potential to be a star. Unfortunately for Lin, the teams he ended up with later in his career never quite allowed him to handle the ball as much as he did under D'Antoni in New York. The brightest landing spot for him was the team he ended up with immediately after his stint with the Knicks, the Houston Rockets, where he looked poised to be the main ball handler as he did when his star in New York burned the brightest. Unfortunately for him, the Rockets then proceeded to pull off a trade for wantaway Thunder sixth man James Harden, who took over much of the ball-handling that Lin seemed initially poised to receive. Lin struggled playing off-the-ball next to Harden, and his poor play eventually resulted in his starting spot being ironically supplanted by one of his backups during the Linsanity period in New York, Toney Douglas. Lin then bounced around the league as a rotation option with the Lakers and Hornets before returning to New York with the Nets, where he suffered a season-ending ruptured patellar tendon at the start of the 2017/18 campaign. Now currently with the Atlanta Hawks as a 30 year old veteran in his 7th year in the NBA, it is entirely possible that Lin's best years are already behind him. Truly, the greatest paradox of Jeremy Lin's career is the lingering feeling that it could have been so much more even in spite of his already unlikely stardom- he just never really ended up ending up in a situation elsewhere that played to his strengths before injuries took their toll. I guess that's what Linsanity reminds us of, to enjoy the highs while they still last, because all it takes sometimes is one bad break to undo all your best work. The 2018 New York Red Bulls are undoubtedly a high-water mark for the organization right now, and they certainly go around acquiring talent in a savvier way than the Knicks ever did, which makes me confident that they won't end up in the same pratfalls that ended up making Linsanity a passing craze rather than the start of a new golden era. But at the end of the day, enjoy enjoying the sports while they are still good. These are the days that you will look back on longingly when it all goes wrong.